---
At present,our country's semiconductor industry is still in the initial growth stage of.The output value of 500 billion RMB is less than 25% of the global $300 billion market.With the continuous investment of the country and industry,our country's semiconductor industry is expected to continue to accelerate development in the next 10 years.
This electronics factory was established in 1998 and has now developed into an engineering technology research center for electric vehicle charging equipment in Jiangsu Province.It has modern standard factory facility of 30,000 square meters,the annual production capacity of more than 50 million pieces,99% of its products are exported.
This electronics factory's workshop staff is intensive.Once the assembly line is working in the summer,the interior of the workshop will be sultry.Starting from May and June,employees will gradually find various reasons to ask for leave,or apply for day off and overtime at night.Frontline employees often go out during working hours,the employees who carry goods are soaked with sweat.The work enthusiasm of staff is seriously low,the work efficiency is very poor.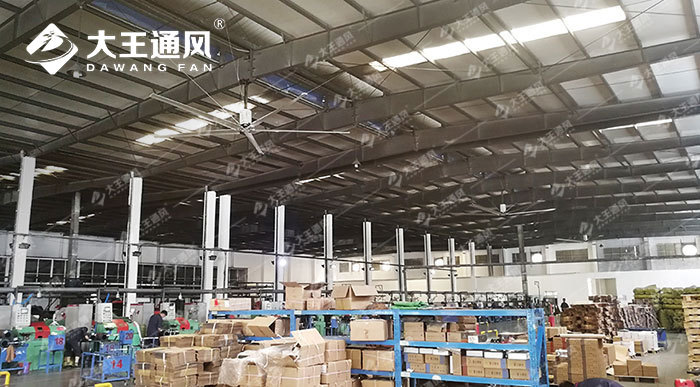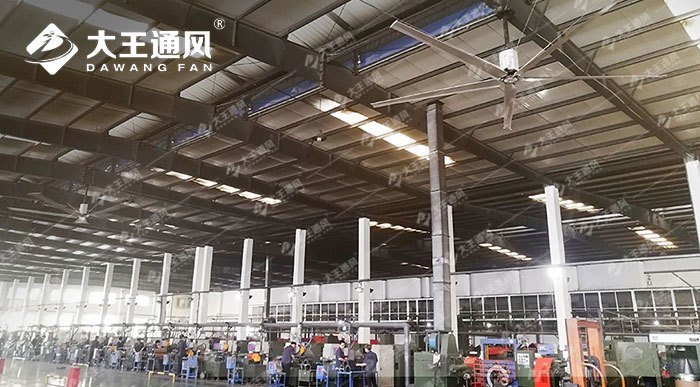 In order to improve the efficiency,the electronics factory looked for ventilation and cooling equipment from various sources,cooperate with Dawang after comparing the advantages and disadvantages of various cooling solutions.
Dawang installs 15 HVLS industrial big fan for the assembly line work and large workshop area. After installation,the original hot and turbid workshop become fresher,the staff are not look for opportunities to go out for ventilation.More and more employees come to work during the day, and the enthusiasm of the whole workshop is mobilized.
The energy consumption of 15 HVLS industrial big fan turns on at the same time is greatly reduced compared with the original small fans,which achieves energy saving and consumption reduction.The costs are very satisfied to the management staff of this electronics factory.