---
The transportation and logistics industry is a comprehensive service industry integrating storage,processing,distribution,market transactions and information.Since 40 years reform and opening up,the rapid development of China's economy has promoted the logistics industry.From the downstream of logistics industry structure,industrial products occupy most of the market,accounting for more than 90%.The industrial logistics structure is gradually In the process of optimization,emerging forces such as high-tech and equipment manufacturing are gradually being strengthened,and consumption and the demand for civilian consumption have become an important driving force for the growth of demand for animal consumption.
Different items have different requirements for the storage environment.The equipment manufacturing is mainly made of metal structures,which must be dust-proof and moisture-proof during storage,a certain temperature and humidity must be maintained in the warehouse.Generally,the temperature must be controlled at 10-30°C and the humidity should not exceed 70%.Some commodities in consumer biological products are resistant to heat,such as linoleum,carbon paper,various rubber products and waxes.If the storage temperature exceeds the required (30°C~35°C),it will become sticky, melted or deteriorated.Some commodities are afraid of freezing,such as medical injections,oral liquids,inks,latex,fruits,etc.,it will freeze,precipitate or become invalid due to low inventory temperature.
This logistics company was one of the early enterprises engaged in the logistics industry and member of the China Logistics and Warehousing Association.After nearly two decades of development,it has formed the logistics network based in Nanjing that covers the whole country.
In order to store different items,the logistics company divides the warehouse into general warehouses,dedicated warehouses and special warehouses.The general warehouse stores industrial products and agricultural supplies without special requirements.Dedicated warehouses are used to store a certain type goods to ensure the quality and safety,some facilities have been added accordingly,such as sealing,insect prevention,mold prevention,fire prevention and monitoring.Special warehouses are mainly used to store chemical products,dangerous goods,corrosive products,petroleum and medicines,etc.This warehouses mainly include cold storage,thermal insulation,and dangerous goods.
In order to meet the temperature requirements of different warehouses,the logistics company formulated a central air-conditioning + industrial large fan program,in order to reduce the costs without reducing the effect in the later operation.In terms of purchasing large industrial fans,the company's managers chose to cooperate with Dawangfans because they recognized the energy-saving effect and safety performance of industrial fans.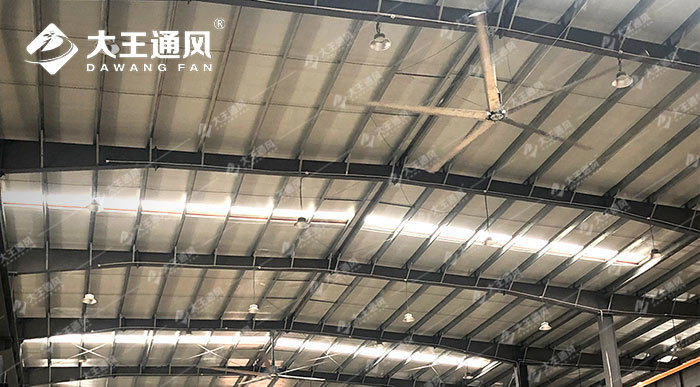 In order to achieve the expected results,the company invited Italian experts to test the results. After many communications and designs,the large industrial fan was installed.During the trial operation,Italian experts observed from the beginning to the end and praised the professionalism and ingenuity of Dawangfans.