D.Fans is the new HVLS energy-saving large industrial fan based on aerodynamic principles developed by Dawang.Low speed,large volume,all direction air circulation,push 1-3 level natural wind,eliminate the heat and sultry,balance the humidity,increase the oxygen,exhaust the smoke and dust,reduce the bacterial concentration,effectively solve the stuffiness of tall spaces Difficulties such as humidity,air stratification,smoke and dust.
D.Fans large industrial fans have 10+ safety guarantee systems such as patented tenon-and-mortise connection,buffer device and anti-impact cushioning functions.Get FCC, CE, ROSH, CCC, CSA, GL, UL certifications and authoritative destructive test of key components.Instead of high energy ventilation equipment,save 70% energy.Combine with air conditions,it can save more than 30% energy.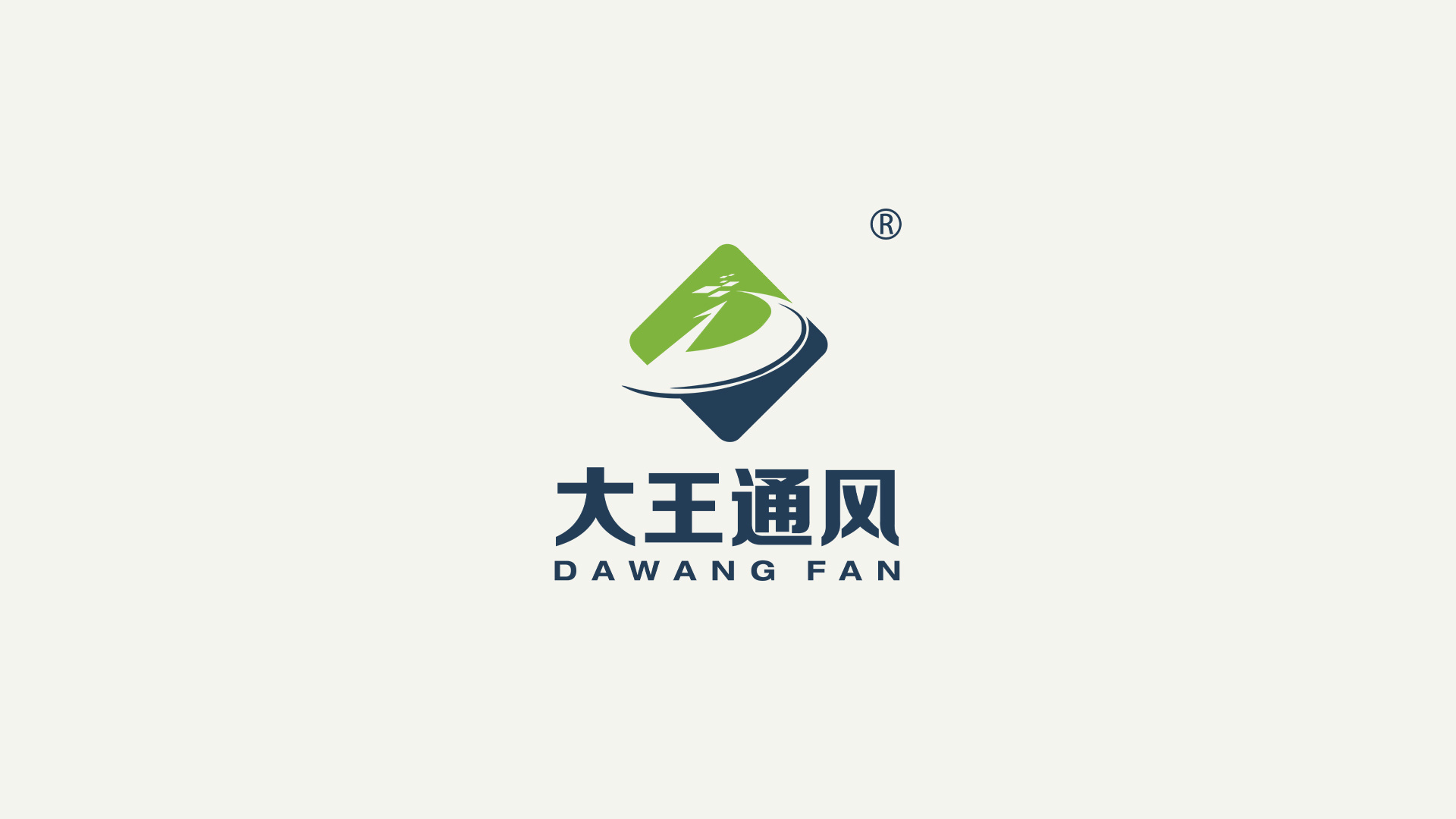 Long life free maintenance
PMSM motor


15072m³/min
Full air volume




Choose the right fan
Say goodbye to danger


Easy to break
Ordinary profile blade


Easy to break
hard connection


Easy to fall
Tenonless structure


No break, No fall
Dawang Ventilation high quality material structure large fan

ANTI-FALL SELF -LOCKING DEVICE

Motor tension device(patented design)forms self-locking to fasten the hub and shaft.


Connect the 5 petioles into a whole to form the sleeve with the frame lower hub to prevent the petioles from falling.


MORTISE AND TENON PETIOLE CONNECTION

The convex petiole with concave buffer device form the Joint engaged,eliminate the centrifugal force from the blades when the fan is running and the shear force when the fan starts and stops.


Integrated hub embedded with 5pcs shaped fasteners form a whole to load min 11Ton tensile


ANTI-WELDING SAFETY DEVICE

The L-shaped device connects the frame flange plate and its brackets firmly together,even if the flange plate and brackets are unwelded,the whole fan frame structure still firm and not falling down.


The blade and petiole flexible connects with buffer device, the rubber absorbs the most vibration from blades when running.


STREAMLINED VARIABLE CROSS-SECTION

Conform to aerodynamic equal chord length theory,combined with the relative linear velocity principle,the blade narrows and thins from root to tip till tail then widen,the air is more even and uniform.


1.5mm thickness 5052 Ultra-high toughness aviation aluminum plate can load more than 3Ton tensile to ensure the blade can deform quickly and absorb external force effectively, It can prevent the blade from breaking,avoid the damage to the motor and other structural parts reatly.


BLADE HIGH-STRENGTH CONNECTION

Each blade is fixed with the buffer cavity by 16pcs high-strength rivets, each rivet can load 1.5 ton shear force.


WIRE ROPE BALANCE PROTECTION

Four wire ropes are fixed with building traction to prevent shaking and falling.


WIRE ROPE WIND PROTECTION

Mounting bracket and I Beam winded with 1000KG tensile wire rope to prevent sliding and falling.


REAL-TIME MONITOR AND INITIATIVE MAINTENANCE

Dawang intelligent remote control system realtime monitor the fan operating parameters,motor temperature rise ,fan horizontal level and so on.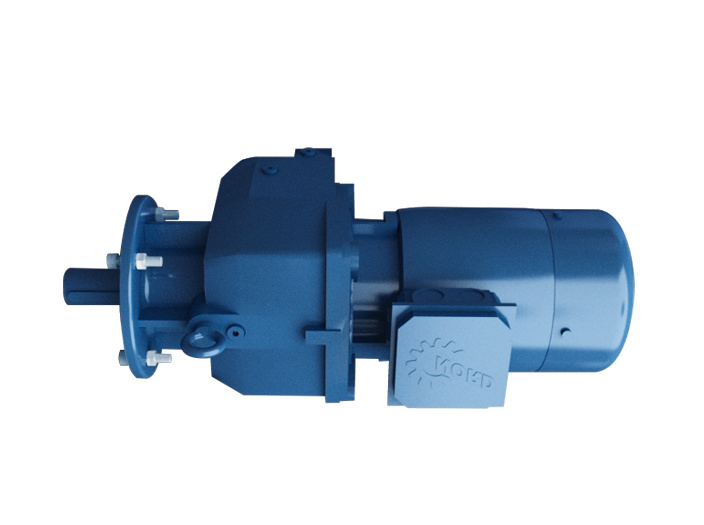 Dynamic systems:Nord gear motor

1.High efficiency:IE2 high energy saving standard,save 5-10% than IE1.
2.High reliability:high axial and radial load to ensure the operation.
3.Lower noise:Low gap assembly and grind process,low vibration and noise.
4.High safety factor:Strengthen the bearing frame,trapezoid shaft structure,enlarge the seal,more safety.
5.Get CCC、CE、UL certification.

Vfd:Schneider electric suit

1.Flux vector control,smoother start.
2.Safety protection module cut off the output in case of accident automatically.
3.Adapt to harsh environments,effectively resist fast transients,electrostatic discharge antiinterference,surge discharge anti-interference,avoid conduction interference,shield electromagnetic,power grid,high temperature.The protect grade up to IP55.
4.Pass EMC,CCC and electric-protection test.
5.Get UL,EMC,LVD,ROHS.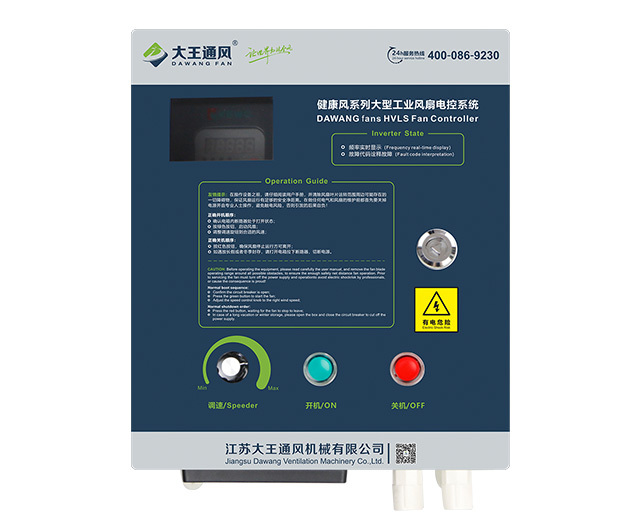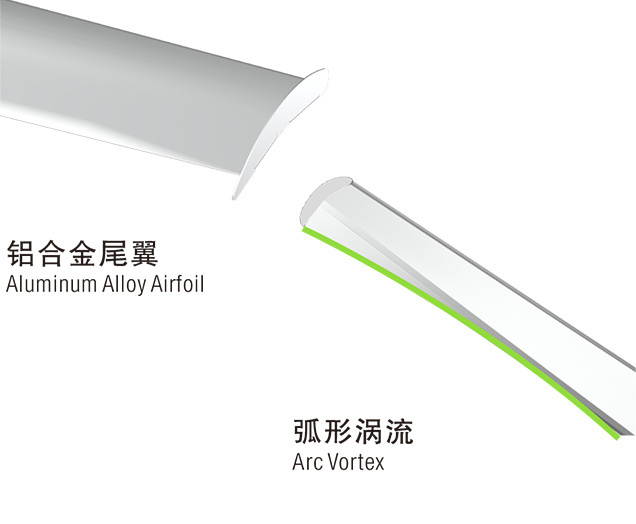 Blades- Airflow components

1.Blade design-Streamline variable cross-section
Conform to aerodynamic equal chord length theory,combined with the relative linear velocity principle,the blade narrows(304-186mm) and thins(43mm-21mm) from root to tip till tail then widen,the air is more even and uniform.
2.Blade material-Aviation aluminum alloy
1.5mm thickness No.5052H32 aviation aluminum alloy original plate,precision CNC molding,high strength and flexibility ensure the blade not to be broken.
3.Blade weight-More lighter and safer
6.7kg per blade(24ft),less blades,lighter weight,it can reduces the motor load,prolong the life,more safe and cost-efficient.

1.More mechanical properties:6061T6 aviation aluminum,perfect appearance and metal streamline to ensure the mechanical performance.
2.More precise dynamic balance:After CNC machining,max tolerance is 100μm to ensure the dynamic balance.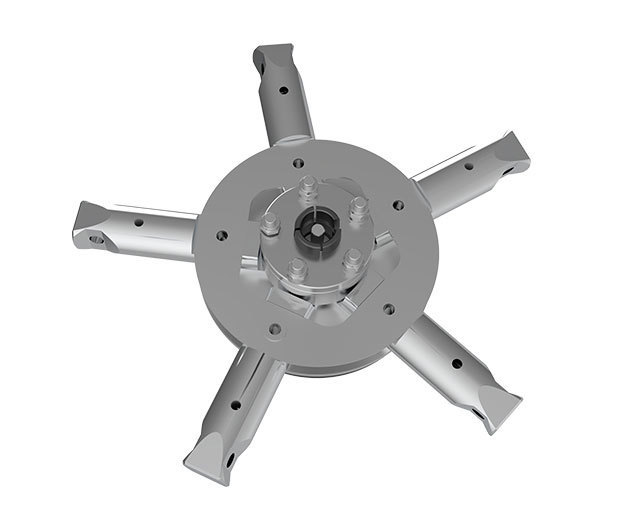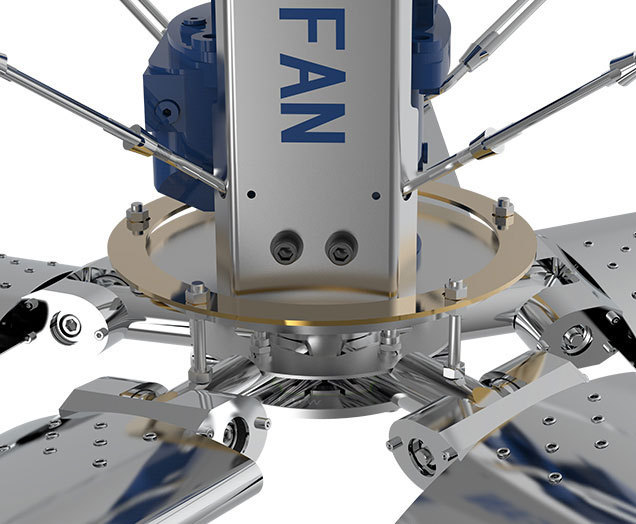 Mortise and tenon connection

Full mortise and tenon connection to ensure the fan's safety.
1.Motor and hub:The inner and outer cone are firmly connected, forms self-locking to prevent falling.
2.Hub and petiole:The petiole and hub hook connected ,the bolt not stressed to ensure strength.
3.Blade and petiole:Centrifugal,resistance and buoyancy transfer to chassis by concaveconvex connection to avoid the fracture.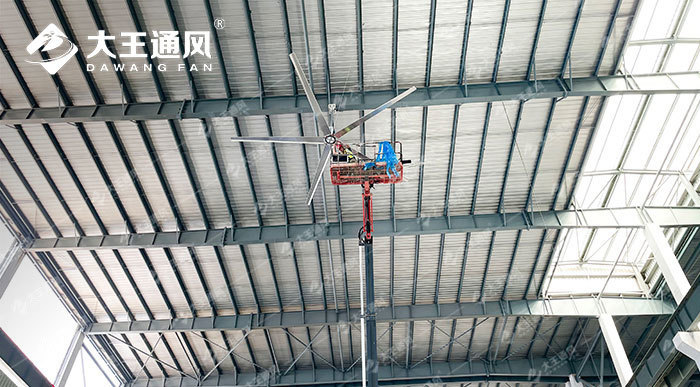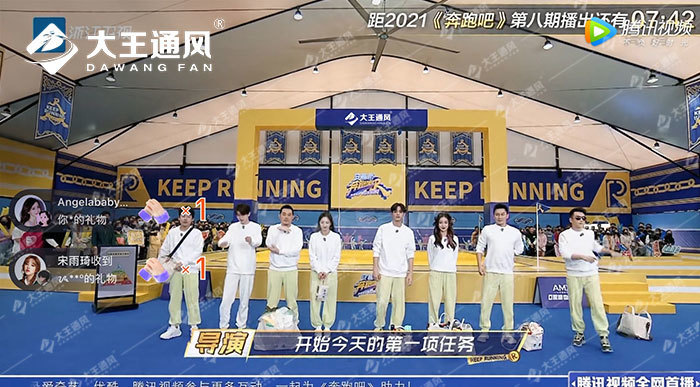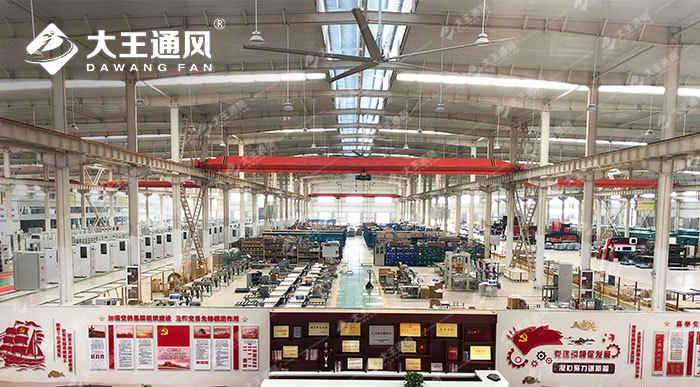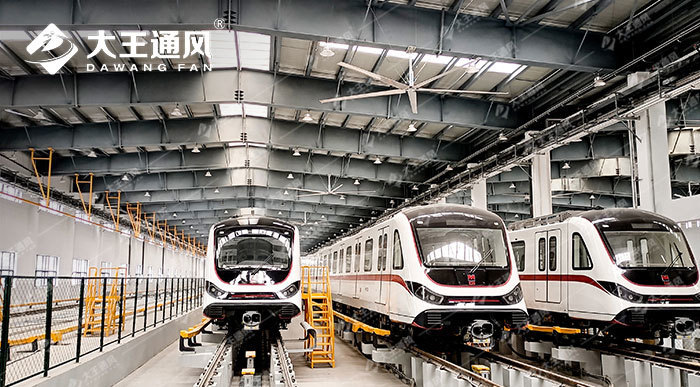 Product series

D.FANS form

Product model

D26

D24

D22

D20

D18

D16

D14

D12

D10

Specification/Diameter (m)

8

7.3

6.7

6.1

5.5

4.9

4.2

3.6

3.1

Speed range (rpm)

10-45

10-55

10-60

10-60

10-70

10-75

10-80

10-90

10-100

Full speed air volume (m³/min)

15072

13804

11630

9639

7836

6220

4570

3357

2263

Coverage area (m²)

2462

2123

1809

1520

1256

1017

804

615

452

Average energy consumption (kw·h)

≤1.5

≤1.2

≤1.2

≤1.0

≤0.8

≤0.8

Rated power (kw)

1.5

1.1

Motor noise (dB)

≤50

Full load current (A)

3.2

Power parameters (V)

380V/220S

Machine weight (kg)

106

101

99

96

95

90

88
Installation Clearance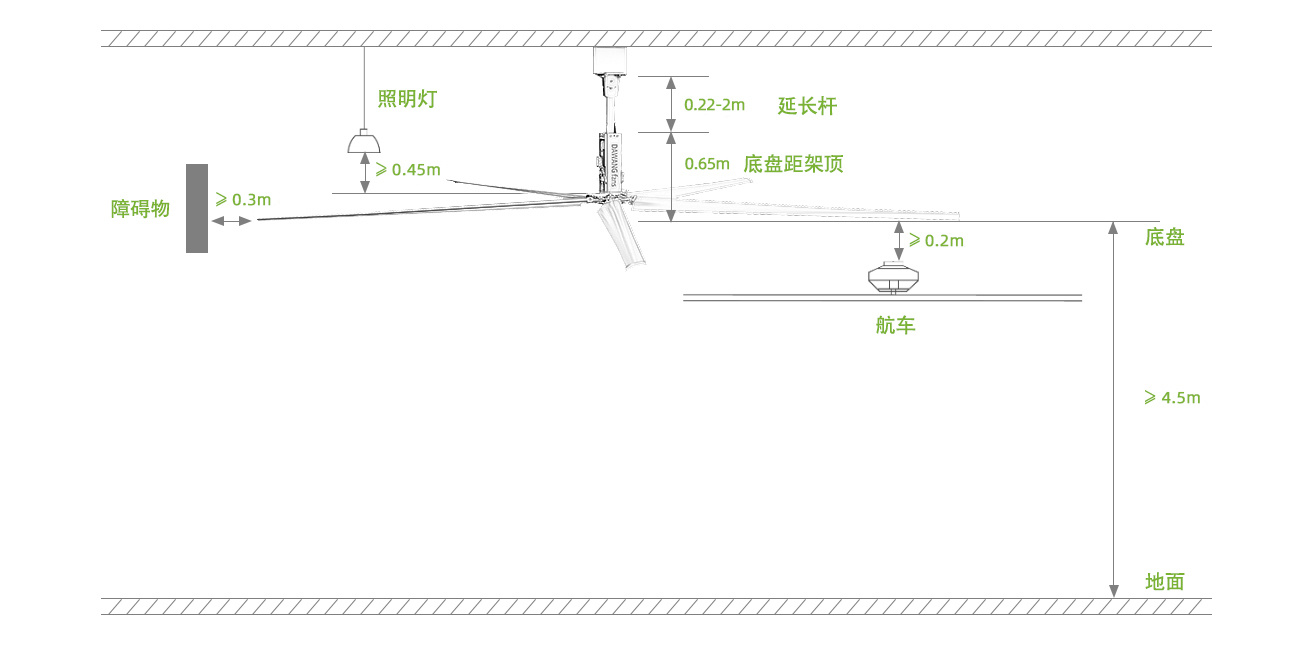 D.FANS - Applicable applications
Workshop / logistics storage / gym / gymnasium / indoor sports field / exercise room / convention and exhibition center / 4S shop / product distribution market / large shopping malls and supermarkets / corporate office building lobby / villas / canteens / museums / large-scale outdoor commercial activities rental / large Playground / Animal and Botanical Garden / Children's Playground / Train Station / High Speed Rail Station / Bus Station / Subway Station / Terminal……

Whether you are in an industrial park plant, station, warehouse, shopping mall or school, our experts will provide you with easier, more comfortable and more convenient solutions for your reference. You can call us for consultation anytime 400-086-9230or request a quote to learn more about how to ventilate.

Keep in touch