DW.Fans is the air pole energy-saving fan developed by Dawangfan.It breaks the installation restrictions of traditional industrial fans and more suitable for indoor and outdoor that require ventilation and cooling,such as airports,high-speed railways,playgrounds,bars,restaurants,Civic square,commercial site etc.
DW.Fans solves the outdoor cooling problems,due to the limitations of space and environment,the general ventilation and air conditioning equipment often cannot function well in the outdoors.DW.Fans are more suitable for this environment,it can create a comfortable feeling near the natural wind.



Intelligent atomization cooling system

Timed quantification,cooling and humidification


Intelligent epidemic prevention system

Timed and quantitative,comprehensive disinfection


Multimedia video, audio/advertising access

Multimedia ultra-high-definition display (LCD/LED),scroll text,pictures,video,audio and interactive functions


5G micro site (Telecom, China Mobile, China Unicom)

Enjoy WIFI anytime,you can surf the internet real time anywhere,get the traffic and advertisements to expand the marketing


Intelligent security monitor

Real-time preview,playback,storage,alarm,video can be extended with related facial recognition,license plate recognition and other functions


Intelligent environmental monitoring system

According to climate and environment,real-time monitor the temperature,humidity and PM2.5,multimedia scrolling display


Miniature station,leisure seat

Mobile power,fast charging


APP:Intelligent and convenient,real-time monitor,initiative maintenance

Product series
DW.FANS form
Product model

DW18

DW16

Specification/Diameter (m)

5.5

4.9

Speed range (rpm)

0-70

0-75

Full speed air volume (m³/min)

7836

6220

Coverage area (m²)

1256

1017

Average energy consumption (kw·h)

≤0.8

Rated power (kw)

1.1

Motor noise (dB)

≤38

Full load current (A)

5.2

Power parameters (V)

380V/220S

Machine weight (kg)

63

60
Installation height instructions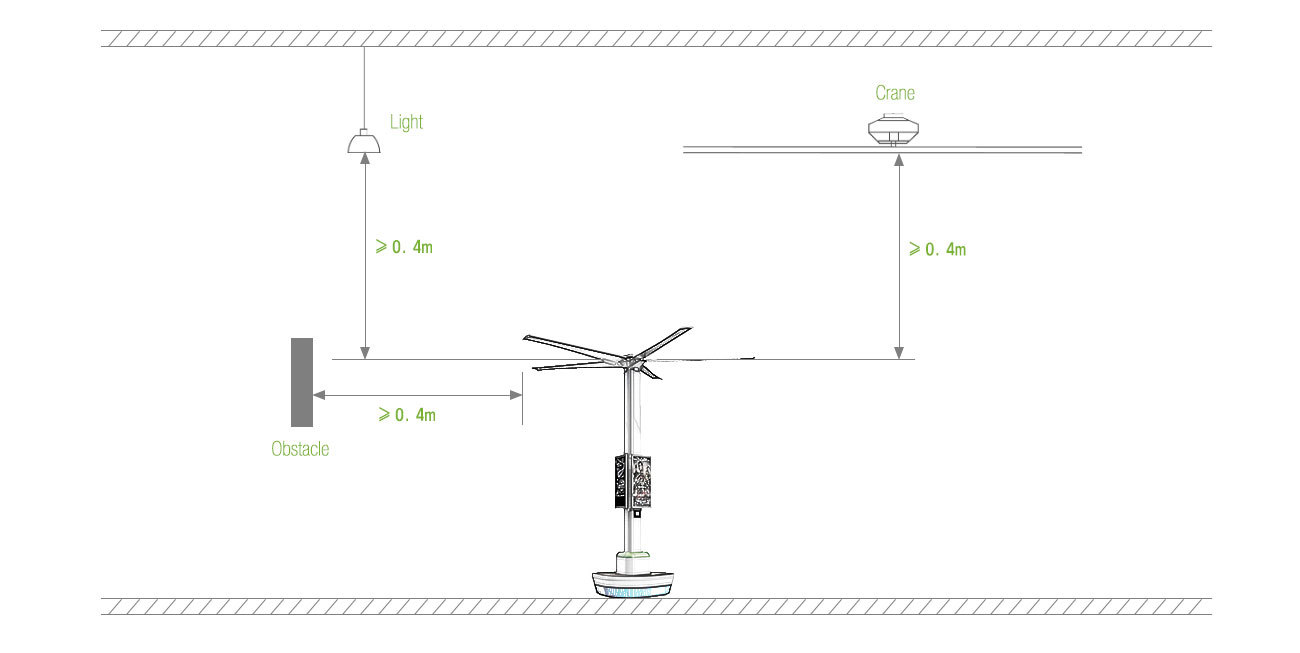 The fan adopts the pole design,which solves the limitation problem that traditional industrial fans cannot be installed.


More functions can be added as require,such as billboards,lights,seats,etc.


Small size,more widely application, especially for small spaces to ventilation and cooling.


Touch screen for control, simple operation,more convenient.

DW.FANS - Applicable applications
Workshop / logistics storage / gym / gymnasium / indoor sports field / exercise room / convention and exhibition center / 4S shop / product distribution market / large shopping malls and supermarkets / corporate office building lobby / villas / canteens / museums / large-scale outdoor commercial activities rental / large Playground / Animal and Botanical Garden / Children's Playground / Train Station / High Speed Rail Station / Bus Station / Subway Station / Terminal……

Whether you are in an industrial park plant, station, warehouse, shopping mall or school, our experts will provide you with easier, more comfortable and more convenient solutions for your reference. You can call us for consultation anytime 400-086-9230or request a quote to learn more about how to ventilate.

Keep in touch