---
As my country's mainstream manufacturing industry, the automobile industry has been affected by the slowdown of the macro economy, the saturation of the automobile market, and the early implementation of National VI emissions in recent years. Its operating efficiency has declined, and it has gradually entered a downturn. All auto companies, especially auto parts companies, are trying to survive in the fierce market competition.
The development of the automobile industry not only depends on the technological progress of the machine tool industry, but also promotes the development of the machine tool industry. my country's automobile industry has become the main consumer of the machine tool industry, and more than half of the investment in the automobile industry is used to purchase machine tools.
An automobile manufacturer in Jiangxi is mainly engaged in the manufacture and sale of automobile bodies, auto parts, electrical and electronic appliances and sales of new energy vehicles. There are a large number of machine tools in the workshop of this manufacturer. Before summer arrives, the high temperature has seriously affected the work efficiency of front-line employees.
In order not to increase the overall production cost of the company, but also to ensure the overall air quality in the workshop, create a comfortable working environment for employees, and protect the occupational health of front-line employees, the company's managers have been looking for suitable ventilation and cooling solutions.
After comparing several ventilation and cooling schemes, the management of the enterprise found Dawang Ventilation to customize an economical and appropriate ventilation and cooling scheme for it. According to the site inspection, Dawang ventilation engineers customized 20 industrial energy-saving large fans to solve the problem of the enterprise. Due to poor ventilation all the year round, employees are prone to mistakes and other problems.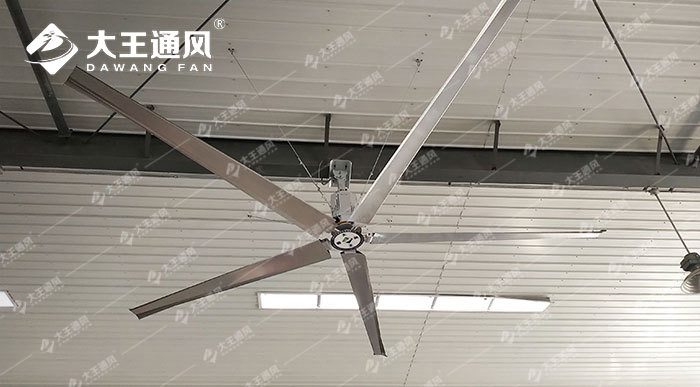 After the implementation of the plan, 20 large industrial energy-saving fans will continuously bring cold and fresh air into the workshop, evenly flowing into every corner of the workshop, driving the airflow of the entire workshop to flow in a three-dimensional manner, sweeping away the sultry heat of the workshop, and the breeze blowing in every corner of the workshop. On the body of a front-line employee, the dual goals of cooling the human body and ventilating the environment are achieved, the oxygen content of the workshop is increased, the sultry workshop is relieved, the concentration of employees is improved, and the work efficiency of employees is indirectly improved.
The power of each 1.5kw/h has been fully recognized by the company. At the same time, according to the needs of production and seasons, the industrial energy-saving large fans can also be partially operated, and the intelligent operation control box makes the operation more convenient and fast.