---
The warehouse of this US-funded enterprise in Suzhou has lots of goods in and out every day,which exposes the warehouse to outdoor air all year round.Although natural ventilation is one of the important for storing materials,it depends heavily on environmental meteorological conditions and the air volume is unstable.Large amount goods stacked in the warehouse throughout year hinders the natural air circulation,so good ventilation is required.
Every year in the summer,the warehouse is like a steamer,the manager complained.The company's senior management originally want to offer a cool and comfortable working environment,but because the high cost of the central air conditioner,they did not find suitable ventilation and cooling equipment,they could only temporarily give the warehouse a few floor fans to alleviate the high temperature.
At an accidental opportunity,the management of this enterprise learn that the industrial fan is an effective solution for ventilation and cooling in large spaces.After consulting with many parties, he comes to Dawangfans and hoped to have the corporation of industrial fan.After detailed introduction by the staff,the company's management decided to cooperate in depth with Dawang,formulate a suitable ventilation and cooling for them,solve the high temperature and heat in its warehouse.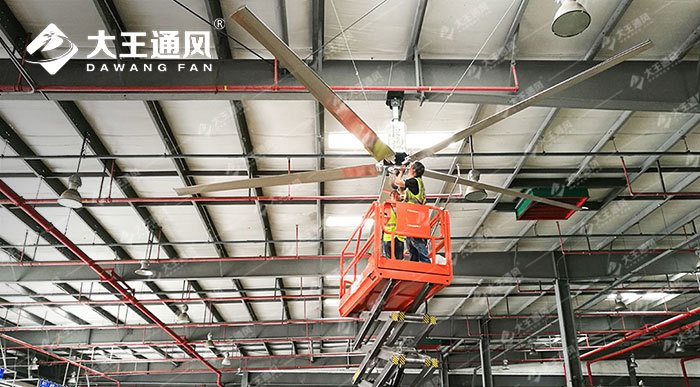 The next day,the large industrial fan was installed.After operation,the cool wind blew the whole warehouse.Each large industrial fan covers 1900 square meters,and the large air volume reduces the body's somatosensory temperature by 41-46℉.The natural air supply mode of 1-3m/s makes the somatosensory feel more comfortable and fully maintain the body's moisture.The humanized intelligent operation interface is simple and convenient,the power of 1.5kw/h is very energy saving.
The Dawang large industrial fan has reduced the high temperature and saved large costs,which has fully praised by the management.