---
Due to the strong growth of Chinese economic environment and a series of policies to stimulate domestic demand such as "household appliances energy-saving subsidies",household appliances trade-in,home appliances to the countryside,China's home appliance industry has achieved rapid and stable growth,and its position in the global home appliance industry has continued to improve.At present,the production scale of our country's home appliance industry has ranked the first in the world,it is the strong international competitiveness industries.
After more than 20 years development,this Ningbo electrical appliance company has the annual production capacity of 30 million timers and 10 million micro motors.It has more than 350 employees.The factory covers the area of 35,000 square meters and of 30,000 square meters building area.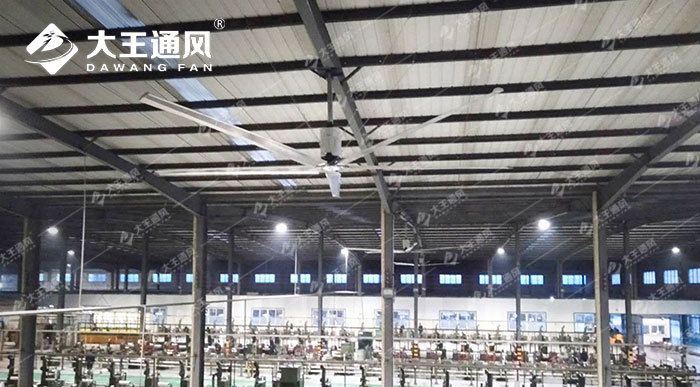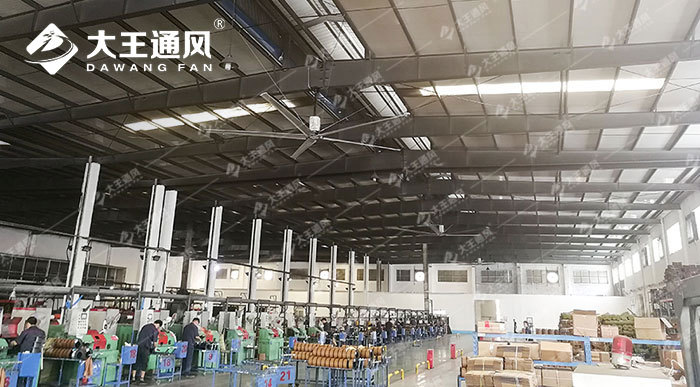 Because the steel structure workshop does not have good heat insulation measurements,the workshop ventilation design is unreasonable,resulting in the lack of air circulation in the workshop,the heat generated by the equipment and personnel accumulates in the workshop,the work efficiency is low,but the loss is serious.
At present,the steel structure workshop on the market adopts more ventilation and cooling methods for mechanical equipment,such as:industrial ceiling fans,negative pressure fans,large ventilation fans,cooling wet curtains,environmental air conditioners etc and in order to achieve ventilation and cooling effect,it needs to be according to the workshop specific situation,making a suitable ventilation and cooling plan.Some workshops can install one type ventilation and cooling equipment,but in some workshops two types ventilation and cooling equipment can be installed to achieve the desired effect.
The electrical management personnel decided to cooperate with Dawang Ventilation after comparing the ventilation and cooling plans of several companies. Installation of the first phase of the project began. After many days of installation and commissioning, after the large industrial fan was in operation, the body temperature of the workshop dropped by 5-8℃. The air in the entire workshop became fresh and cool, which greatly improved the working environment of employees, greatly improved the production efficiency of employees, achieved a qualitative leap, and greatly reduced the turnover rate of front-line employees.