---
Industrial large ceiling fans are widely used in public places, company production workshops, logistics and storage areas, and their relative safety is better than central air conditioning, Industrial fan, safety factor and environmental protection and energy saving. At this stage, many manufacturers of large industrial ceiling fans are exaggerating in the sales market, shouting slogans of environmental protection and energy saving to attract customers. How should you identify and choose an industrial ceiling fan company? What about industrial ceiling fan manufacturers with strong comprehensive strength?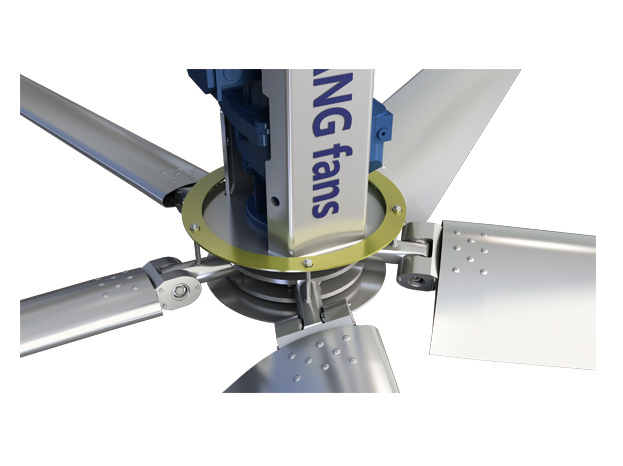 Own a factory: Manufacturers of large industrial fans must have their own factories, otherwise they are agents.
Commodities and their key technologies: Whether the product variety is complete, whether industrial fans and ceiling fans are safe, whether the application sites are comprehensive, and whether there are key technologies. The whole set of equipment products must be verified in accordance with the authorization of FCC, CE, ROHS and core components. Safety considerations for large industrial fans passed.
All parts of industrial fans Ceiling fans are made of high-strength compressed industrial steel with more than 10 times the stress; each stainless steel wire has a strength of up to 1000kg and includes two-way protection. Safety rings for large industrial fans can prevent falls. The streamlined fan blades combine with the principle of aerodynamics, which can strongly agitate the indoor air and generate simulated natural wind. The large ceiling fan automatic control system, the abnormal situation of the large ceiling fan will automatically alarm, and the danger will be reduced to a lower level.
3. After-sale maintenance service and guarantee
In addition to product quality, industrial products and equipment should pay more attention to after-sales issues of some products. Some service providers may make you feel good at first, but if the product does have a problem, it may be difficult to deal with. It depends on the overall strength of large industrial fan manufacturers and their after-sales maintenance capabilities.
Choose a large ceiling fan, but it is important to find the right industrial fan ceiling fan manufacturer, which will make your equipment more worry-free.